Petite Sirah Reserve 2018

---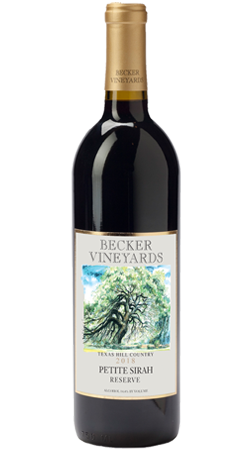 A compilation of Petite Sirah from the Texas Hill Country, grown on the Becker Estate and Drew Tallent vineyards, plus a little Counoise from the Farmhouse Vineyards of West Texas. The 2018 Petite Sirah is a big wine, forward on the nose and palate; bold and brazen, it begs for attention and rich, fatty foods.
Aging Petite Sirah in predominately American, neutral oak barrels allows the fruit to shine and the tannins to mellow. This wine opens with an extravagance of florals and fruits. Decadent, ripe dark fruits balance medium tannins, while smoky oak balances the herbal notes, leading to a lush, long finish.
Aromatics: Extremely aromatic, heady violets, rich blueberries, figs, cocoa, vanilla, mild anise and eucalyptus
On the Palate: Sugar plums, ripe blueberries and blackberries, medium tannins and acidity
Enjoy now, Cellar 10+ years
Decant 1 hour before serving
Serve 60-65°F
Wine Specs
Appellation
Texas Hill Country
Aging
American Oak barrels
Fermentation
French and American Oak barrels
Residual Sugar
Dry - 0.5 g/L
Wine Profile
Awards
2021 HLSR Int'l Wine Competition - Silver Medal / Texas Class Champion
Vineyard Notes
Becker Estate Vineyard, Petite Sirah (Stonewall, TX) 85%; Tallent Vineyards, Petite Sirah (Mason County, TX) 10%; Farmhouse Vineyards, Counoise (Meadow, TX) 5%
Food Pairing Notes
Rich, hearty dishes, roasted meats, mole sauce, aged Gouda, sauteed mushroom and eggplant, stuffed peppers
Product Reviews
John Nicholson
(Sep 10, 2020 at 11:52 AM)
A nice Sirah
Greg Gaston
(Sep 27, 2020 at 8:16 AM)
This is one of favorites.
Rudy Cavazos
(Oct 28, 2020 at 10:22 AM)
I've had the majority of the wines offered in this vineyard/winery and this one in particular is by far of my favorites. I absolutely love this one.
Willy g
(Jan 2, 2021 at 1:12 PM)
Favorite wine, definitely, 2018 bottle is the best yet. Order only took 2 days to get to my house
Marc Countiss
(Mar 6, 2021 at 3:25 PM)
As a big red lover, I have always liked the Canada Family and Wilmeth cabs. But the Petite Syrah may be my favorite of the Becker family of red wines. Lucious dark fruit and just enough tannins to make it interesting. Good reds from Texas are few and far between from where I sit. This is definitely one of the best from the Lone Star state.