Ranger Hays 2017

---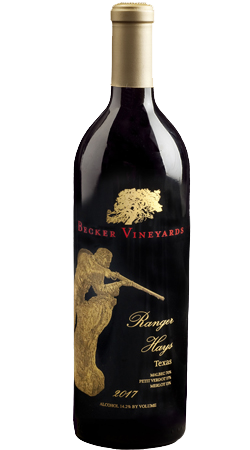 Ranger Hays first surveyed what is now known as Becker Vineyards in the mid-1800's. Later, he made his profession as a Texas Ranger, renowned for his efforts settling the Texas frontier. This particular label depicts his famous stand-off at Enchanted Rock against a Comanche War Party.
Malbec, Petit Verdot, and Merlot from Texas High Plains and Texas Hill Country vineyards, combine to create a wine as captivating as its inspiration. Beautiful notes of brown spice and up-front rich fruit with a mild dustiness, reminiscent of the Texas High Plains, greeting you with cherries and florals. The finish is lush, with bright cherries, herbal notes, acidity, and medium tannins.
Aromatics: Vanilla, violets, all-spice, rose petals, sage
On the Palate: Blackberries, cherries, red plums, fresh tobacco, vanilla
Enjoy now, age for 5-10 years
Decant 30 minutes
Serve 60-68ºF
Wine Specs
Harvest Date
September, 2017
Aging
18 months French and American Oak barrels
Fermentation
French and American Oak barrels
Residual Sugar
Dry - 0.3 g/L
Wine Profile
Awards
2021 San Francisco Chronicle Wine Competition - Silver Medal, 2021 HLSR Int'l Wine Competition - Silver Medal, 2020 San Francisco Chronicle Wine Competition - Silver Medal, 2019 Lone Star Int'l Wine Competition - Silver Medal
Vineyard Notes
Canada Family Vineyards (Plains, TX), Jet Wilmeth, Diamante Doble Vineyards (Tokio, TX), Becker Vineyards, Estate Vineyard (Stonewall, TX)
Food Pairing Notes
Rich beef dishes, roasted wild game, pork, veal, aged hard cheeses
Product Reviews
Matthew Hays
(May 28, 2019 at 3:06 PM)
Absolutely LOVED this wine.
De'Ann and Paris Gill
(Sep 8, 2019 at 8:19 AM)
One word; perfection!
Bruce Hays
(Nov 3, 2019 at 1:19 PM)
A wonderful wine to drink by itself or with a nice porterhouse steak!
Alyssa Romero
(Nov 27, 2019 at 10:51 AM)
This is my favorite wine from Becker. So elegant and impressive on the palette. I try and buy for any special occasions and they are especially good for hostess gifts.
carrie
(Mar 31, 2020 at 4:56 AM)
This wine is a perfect drinking wine or perfect with a meal. Perfect in every way.
Dana Sparks
(May 11, 2020 at 9:08 AM)
A very enjoyable wine and I liked the story behind the name. This is a really accessible wine - sour fruits and not heavy.
Murray
(May 21, 2020 at 4:12 PM)
After all the five star reviews far be it from me to deviate. Great wine very drinkable. I'm a huge Malbec fan
Bill Long
(Aug 18, 2020 at 8:24 AM)
We think Ranger Hays is absolutely yummy and look forward to finding other Becker offerings that are less oakey as well. .
John Nicholson
(Sep 10, 2020 at 11:50 AM)
Excellent, love the blend. Becoming my favorite.
Shane McIntosh
(Oct 4, 2020 at 8:35 AM)
We enjoyed while still in Fredericksburg. It was the wine we drank during the Presidential debate. The wine was excellent
Bill
(Oct 15, 2020 at 8:28 AM)
Outstanding wine with or without food. Very, VERY smooth. A go to wine for every occasion. Similar to good Bordeaux.
Vanessa Ashcraft
(Oct 21, 2020 at 2:56 PM)
I had purchased a bottle a few years back when the wine had a different name. I thought that was it. I was so happy whenI found out it was renamed and on the market again. Thank you!
Christian Grimes
(Dec 21, 2020 at 10:08 AM)
This is a phenomenal wine. The blend of the reds included makes for a beautiful mix between a tart and strong red and a mellow aftertaste. Love it!
Tom Steinwinter
(Aug 3, 2021 at 10:27 AM)
We are from AZ. 2 weeks prior to our discovery of Becker Vineyards we toured the Nappa Valley. My wife prefers a dry red wine and I prefer red blends as they are usually less dry with mellow tennins. We bought a bottle of this and took it back to Waco (where my daughter lives). I discovered it is the new benchmark that I use to judge all future blends. We returned to AZ by way of your winnery to purchase 2 more bottles to enjoy in AZ and to share with friends. Salute!
Victoria
(Nov 2, 2021 at 1:49 PM)
This wine says it all about TX wine! We recently had some new neighbors stop by, I opened my last bottle of Ranger Hays, they raved and raved about it! Needless to say the 4 of us finished the bottle on our patio. I immediately went and ordered 4 more!
Sarah
(Dec 24, 2021 at 1:52 PM)
I agree with Victoria -says it all about Texas reds! I really like it and buy it for my daughter who loves it when she comes to Texas. She will love it in New Jersey when we can ship it there -hint hint.
Cindy Beauregard
(Dec 27, 2021 at 11:04 AM)
Loved this wine. Becker makes me proud to share Texas wines with my friends in California and back east!!!
Catherine Lyden
(Feb 27, 2022 at 9:18 AM)
I sent this to my father for his 80th birthday & he said it was superb & the best wine he's ever had. I was so delighted to share some Texas wine with my Hoosier family!
Dave Loduca
(Aug 5, 2022 at 5:57 PM)
When I tried Raven, the grandfather of this label, I was amazed… it had all the earmarks of opus one… I bought a case on the spot. Can't wait to try this one