Red Wine Gift Box - 3 Bottles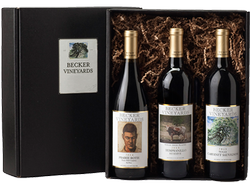 2013 Texas Cabernet Sauvignon - Notes of rich cherry and earth will greet you on your first glass. Followed up with well-developed tannins and dark red fruit. This wine will entice you to a second glass, but be aware that it may try to convince you not to share with others. To counter this urge we recommend two bottles - one for you and one for you, tomorrow...
2016 San Francisco Int'l Wine Competition - Gold Medal
2014 Prairie Rotie - Spice followed by brown spice and wonderful floral notes, offer perfume that will not stop. After which, a lingering finish of red fruit and subtle hints of chocolate coffee await you. This light bodied blend is composed of Mourvedre, Petite Sirah, Syrah, Carignane and Viognier.
2016 San Francisco Int'l Wine Competition - Silver Medal
2015 Reserve Tempranillo - Our 2015 Reserve Tempranillo comes from the Farmhouse Vineyard in Meadows, Texas. This wine was aged for 18 months in predominately in American Oak. With plenty of lift in body to carry the flavors of dried cherries, mocha and spice, this wine unfolds with intriguing notes of wood violet, oak and coffee on the finish.