Tempranillo Reserve 2015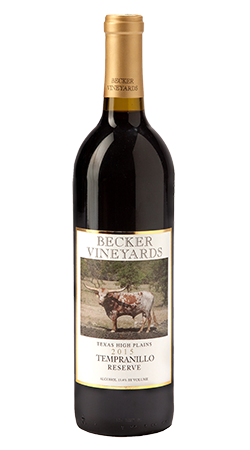 Our 2015 Tempranillo Reserve is a blend of outstanding Tempranillo vineyards from the Texas High Plains. The majority of the grapes were sourced from Farmhouse Vineyards in Meadow, TX and Diamante Doble Vineyards in Tokio, TX.
Drink now, or age up to 5 years.
Aromatics: Dried red fruit, bright cherries, fig, herbs, and mocha
On the palate: Currant, tobacco, and coffee with mineral and oak
Pairing: Pork, lamb, wild game, grilled veggies, and hard aged cheese
Wine Specs
Appellation
Texas High Plains
Product Reviews
Lindsay P
(Dec 21, 2017 at 10:57 PM)
I recently traveled to Austin TX from A2 Michigan, and I found this wine in a 7-11... I was absolutely blown away by the quality and complexity of this Texas gem. I bought a few bottles for myself to savor until the next time I am able to make it to ATX (10 days and counting down!) and also several to gift to friends and family. I highly recommend this wine. I would love to find out if this winery does tours etc since I will be back in TX so very soon (thank God!). Cheers!
Christy
(Jun 28, 2018 at 8:06 AM)
Our FAV!
Mike Conner
(Sep 1, 2018 at 9:30 AM)
We have tried most Tempranillo wines throughout Texas, as well as a few "imports" (any wine not produced in Texas :-). This Reserve is in our top 2. (Can't understand why Becker used the same label picture for "reserve" and "non-reserve"?)
Allen
(Sep 15, 2018 at 5:12 PM)
Had the Tempranillo with homemade veggie and prosciutto pizza. Pairs perfectly.
Jeff Kohley
(Sep 26, 2018 at 12:17 PM)
Not a huge Tempranillo fan, however this was a lovely wine. On a QPR (Quality Price Ratio) scale this wine comes out near the top for Tempranillo. Becker has ii dialed in comparison to the other Texas wineries we visited. Nice tasting room, good staff, nice wines and reasonable price points.