Roussanne Reserve 2015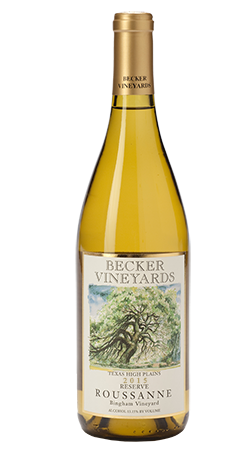 Roussanne is one of the great Rhone Valley white wines. Meaning 'roux' or russet colored in French, it is named for the reddish-gold pigment the fruit displays when fully ripe.
We get most of our Roussanne grapes from the Bingham Vineyard in the Texas High Plains. Texas Roussanne shows a great depth of flavor, accenting the natural fruit flavors of pear and mild tropical fruits. Because of our warm climate both day and night, this white wine starts to lose acid at the peak of ripeness. We watch for the tell tale signs of color change, then monitor sugar levels in the fruit to help guage the "relative ripeness".
Aromatics: Delicate herbal tea with notes of lime, white flowers, and pear
On the palate: Complex finish of honeycomb and graceful acidity