Saigne 2017

---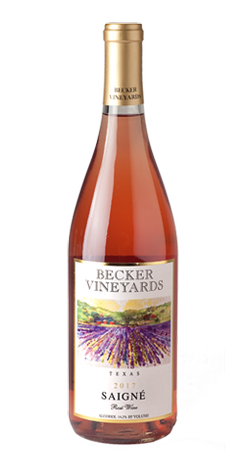 Saignée, or to bleed, is the method of collecting the inital juice from red grapes immediately after we crush. By utilizing the juice from the same grapes which produce our favorite red wines, fermenting as though it were a white wine - slow and cold - we are creating a bigger, bolder rosé with pronounced bright fruits, florals and a hint of residual sugar (just 1/2%). The 2017 Saigné is a blend of Merlot, Cabernet Sauvignon, Malbec, Cabernet Franc and Tempranillo.
Aromatics: Deep florals of violet, raspberry and jasmine
On the Palate: Cherry, ripe raspberry, fresh thyme, lavender and roses
Enjoy now. Serve chilled.
Wine Specs
Harvest Date
July - September, 2017
Fermentation
Stainless Steel
Bottling Date
August, 2018
Residual Sugar
Off Dry, 4 g/L
Wine Profile
Vineyard Notes
Blended from the red grapes of all our Texas Grape Growers.
Food Pairing Notes
Grilled fish, goose, turkey, hard cheeses, spicy dishes and salsas
Product Reviews
Aimee Zuniga
(Nov 15, 2019 at 7:39 PM)
I loved this rose... this one just really was so smooth I really enjoyed it!
David R
(Apr 4, 2020 at 5:10 PM)
I am not a red fan, and I am not saying it is a red, but I love this one! I was surprised to like it. It is a great not too overpowering dry light red. I would definitely buy this again. My wife loves reds, and I don't, so this is a great compromise. My favorite Becker's are Fleur Savage and Clementine to give readers a bead on my taste for wines--rated it 4 stars because there were other Becker's I like better, but this is good, too.
Lisa Costello
(Apr 5, 2020 at 8:13 AM)
This a consistent favorite of ours.....please keep making! We've been Rose lovers for years so really appreciate seeing the comeback. Light, crisp, not too dry or too sweet, just perfect. We enjoy sipping with cheese and crackers, real simple and enjoyable. Highly recommend.
PAUL SUMRALL
(Apr 17, 2020 at 12:54 PM)
We enjoyed a couple of bottles of this at the Becker Chili Cook-Off - it paired very well with the chili. We've also enjoyed it with a spicy grilled salmon and Cajun food. It's a little too easy to drink - so if you want just one glass, you might look elsewhere : )
Bob Purtell
(Apr 22, 2020 at 9:38 AM)
My wife loves this delicious rose. We keep a bottle chilling in the refrigerator all year long. Excellent for afternoon sipping or when guests drop in.
Jan Jenkins
(May 8, 2020 at 9:06 AM)
My favorite rose'
Sadie M
(Jul 28, 2020 at 9:11 AM)
The best wine/Rose I have ever had! I love Becker Vineyards. Usually i drive from Austin to the vineyard to purchase this wine. realized I can have 4 bottles delivered for a very small delivery fee and received the wine the next day, even better!