Tempranillo Reserve 2017

---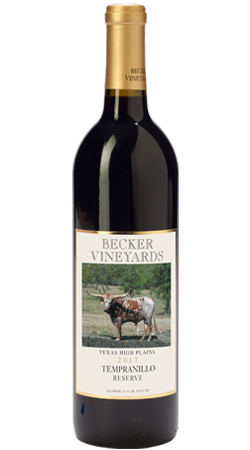 When crafting the 2017 Reserve Tempranillo, it became apparent we had in our hands two very distinctive Tempranillos, from the Jet Wilmeth Diamante Doble vineyard and Farmhouse Vineyards. Blending the Tempranillos with 10% Touriga Nacional from Six Harts Vineyards, we've created a traditional rendition of an Old World Tempranillo. Layers of cherry, dried herbs and cedar compliment the palate's red fruits of cherries and currant, then finishing with soft black pepper and fresh tobacco.
Aromatics: Cherries, figs, toasted coffee, dried herbs
On the Palate: Currant, cherries, fresh tobacco leaves, toasted oak notes
Enjoy, age 5-7 years
Decant 30 mins
Serve 60-68ºF
Wine Specs
Appellation
Texas High Plains
Harvest Date
August - September, 2017
Aging
1 year, French and American oak barrels
Fermentation
Stainless Steel and oak barrels
Bottling Date
December, 2018
Residual Sugar
Dry - 0.3 g/L
Wine Profile
Awards
2019 San Francisco Int'l Wine Competition - GOLD Medal, 2020 San Francisco Chronicle Wine Competition - Silver Medal, 2019 Lone Star Int'l Wine Competition - Silver Medal
Vineyard Notes
Tempranillo from Jet Wilmeth's Diamante Doble Vineyards and Farmhouse Vineyards Touriga Nacional from Six Harts Vineyards
Food Pairing Notes
Spanish and TexMex cuisine, grilled fowl, heavy fish, grilled and pulled pork, aged hard cheeses
Product Reviews
W Scott Leigh
(Dec 30, 2018 at 3:47 PM)
I am not big on red wines but this is really good.
Kim Pham
(Jan 17, 2019 at 3:15 PM)
Same with the above reviewer. I'm more of a white wine drinker, but this was amazing.
Jodi Bash
(Jan 24, 2019 at 8:20 AM)
Too tart for my taste.
Joy Hunsucker
(Feb 28, 2019 at 8:04 AM)
Love this wine.
Robert young
(Mar 1, 2019 at 6:19 PM)
Absolutely delicious. Will be purchasing more.
John McKissack
(Jun 8, 2019 at 8:42 AM)
Our very favorite with Tex Mex . Try to keep a stock on hand, but it goes quickly.
Benjamin Tait
(Jun 13, 2019 at 11:52 AM)
This is the best Tempranillo available on the market...hands down!
Matt Hays
(Aug 17, 2019 at 8:04 PM)
This is one of my favorite wines. Absolutely phenomenal Tempranillo! I grew up in the California wine country and Becker Vineyards can compete and beat them all!
Steven Stone
(Aug 22, 2019 at 9:59 AM)
I've never been a wine consumer, especially red wine, this was fantastic. Extremely enjoyable from start to finish. Will be a regular for me.
Ada
(Sep 6, 2019 at 10:46 AM)
Smooth and fruity flavors! Absolutely enjoyed it!
Alan Massengale
(Oct 6, 2019 at 3:06 PM)
BEST BEST BEST Tempranillo in the world!! Our house favorite for years now!
Cheryle McMinn
(Nov 9, 2019 at 11:16 AM)
I have had the Becker Tempranillo several times before but I was not pleased with this 2017 bottle. We have relegated the balance of the bottle for a cooking wine.
Vicky Bott
(Nov 28, 2019 at 3:38 PM)
A great tasting Tempranillo. Absolutely enjoyed it!
Suzanne Prose
(Dec 10, 2019 at 6:42 PM)
Perfect dry Red! One of the few Texas wines I absolutely enjoy.
Clarissa
(Mar 20, 2020 at 8:43 AM)
I love Tempranillo but this one was a miss.
Alan Massengale
(Mar 23, 2020 at 12:12 PM)
Still our favorite, although not as much pepper finish as prior vintages.
Janice Giovannetti
(Mar 25, 2020 at 6:32 PM)
We love this wine. It is a permanent favorite of my husband, who loves the peppery finish. We find it goes well with just about anything.
Tim Martin
(Apr 15, 2020 at 9:29 AM)
This is by far my favorite Tempranillo. I love its color, aroma, and full bodied taste without being overpowering. Way to go, Becker, for making such an excellent wine with Texas grapes!
Edmundo Dantes
(Jun 30, 2020 at 11:37 PM)
Dark color and loaded with chocolaty cherry fruit, with some smokey tones. . Balanced acidity and the tannins are soft. Nice medium to long finish.