Valentine Lavender Basket 2023

---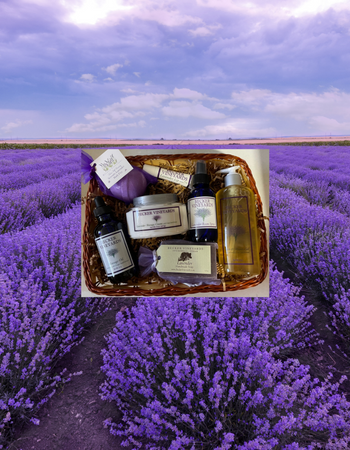 Lavender products for this holiday season.
This gorgeous Becker Vineyards Valentine Lavender Gift Basket is exclusively put together for a perfect gift for friends or family.
$70.00+tax & $10 shipping
INCLUDES 1 each of products listed below
---
Lavender Therapy Cream
A wonderful thick cream made with shea butter, lavender essential oil, Becker Vineyards Estate grape seed oil, and other natural botanicals to help nourish and hydrate dry skin. Use on hands, elbows, knees and heels. 8oz
Lavender Room Spray
Want instant lavender fragrance in your home? Try using our lavender room spray.
Spray on rugs, pillows, curtains, or anywhere in your home or office.
Cobalt blue glass bottle with fine mist sprayer. 4oz
Lavender Soap in Organza Bag
Handmade bath bar with a touch of natural botanicals and essential oil. Saponifed organic oils of sunflower, coconut, palm and safflower with essential oil. Packaged in an organza gift bag. 4oz bar
Lavender Bath Fizz
Drop in bath water and let the fizz take over your bath tub while you enjoy the calming lavender fragrance. Ingredients: Sodium bicarbonate, citric acid, epsom salt, coconut oil, lavender oil, colorant. 5oz
Lavender Massage Oil
Lavender massage oil is designed to enrich and enliven one's skin. Apply to skin to moisturize and nourish. Lavender massage oil is a blend of the finest natural oil consisting of safflower, apricot kernel, sweet almond, jojoba, vitamin E and essential lavender oil. 4oz glass jar.
Lavender Shower Gel
Lavender shower gel is designed to not just cleanse, but moisturize and enliven one's skin. Use as hand soap or shower gel. A luxurious foaming body wash. Made with essential lavender oil along with Becker Vineyads grape seed extract. A great way to enjoy the aroma of lavender with this hand and body wash. 8oz
Lavender Lip Balm
Enjoy the day and smooth lips with our special handmade lip balm. Made with Becker Vineyards estate grape seed oil.
Product Reviews