Valentine Wine & Lavender Basket 2023

---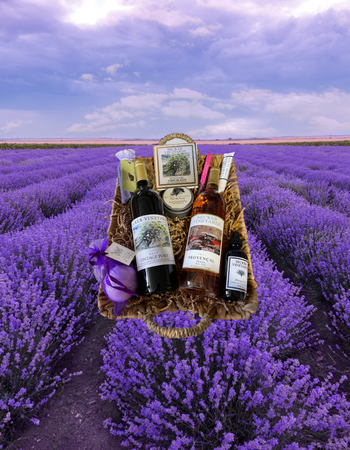 Lavender products for this holiday season.
This gorgeous Becker Vineyards Lavender Gift Basket is exclusively put together for a perfect gift for friends or family.
$125.00+TAX & $20 SHIPPING
INCLUDES 1 each of products listed below
---
2021 Provençal
2022 San Francisco International Wine Competition
DOUBLE GOLD | Best Rosé Blend/Best Overall Rosé
A rosé reminiscent of a French Provençe-styled wine. The 2021 vintage, is a synergistic blend of Mourvedre, Cinsault, Counoise, and Tempranillo. Utilizing white wine fermentation techniques on red grapes, with limited skin contact, provides the pale salmon color; a cool, slow fermentation retains the soft florals and fresh fruit flavors. The result is a light bodied rosé with delicate notes of pomegranate, strawberries, and soft floral aromas.
2017 Vintage Port
2022 San Francisco International Wine Competition
Silver Medal
A delectable blend of Zinfandel, Malbec, Tempranillo and Touriga Nacional grown by Jet Wilmeth and family. Wonderfully rich and decadent, this vintage port was allowed to age, for over 4 years in American and French oak, creating a smooth wine with vibrant flavor. Upon opening, aromas of ripe blueberries, notes of caramel, and nuttiness indicative of Ports greet you. Essences of molasses and tea, dried dark fruits, such as prunes and figs, leading to caramel and toasted chocolate coat the palate. Try this wine with classic chocolate desserts, ripe blue cheeses, or branch out and enjoy with your next saucy BBQ dish.
Lavender Massage Oil
Lavender massage oil is designed to enrich and enliven one's skin. Apply to skin to moisturize and nourish. Lavender massage oil is a blend of the finest natural oil consisting of safflower, apricot kernel, sweet almond, jojoba, vitamin E and essential lavender oil. 4oz glass jar.
Lavender Bath Fizz
Drop in bath water and let the fizz take over your bath tub while you enjoy the calming lavender fragrance. Ingredients: Sodium bicarbonate, citric acid, epsom salt, coconut oil, lavender oil, colorant. 5oz
Double-Hinged Waiter Corkscrew
This beutifully colored pink double-hinged waiter corkscrew labeled with the Becker Vineyards logo is your best friend to open any Becker wine.
Soap(Organza Bag)
Handmade bath bar with a touch of natural botanicals and essential oil. Saponifed organic oils of sunflower, coconut, palm and safflower with essential oil. Packaged in an organza gift bag. 4oz bar
Lavender Lip Balm
Enjoy the day and smooth lips with our special handmade lip balm. Made with Becker Vineyards estate grape seed oil.
Lavender Soy Candle
This candle is 100% soybean wax with a nice lavender fragrance, virtually soot free.
Burn time approx. 25 hrs. Made locally for Becker Vineyards. 4oz

Product Reviews