Vintage Port 2017

---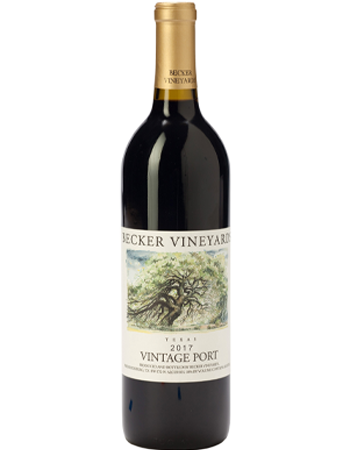 A delectable blend of Zinfandel, Malbec, Tempranillo and Touriga Nacional grown by Jet Wilmeth and family. Wonderfully rich and decadent, this vintage port was allowed to age, for over 4 years in American and French oak, creating a smooth wine with vibrant flavor. Upon opening, aromas of ripe blueberries, notes of caramel, and nuttiness indicative of Ports greet you. Essences of molasses and tea, dried dark fruits, such as prunes and figs, leading to caramel and toasted chocolate coat the palate. Try this wine with classic chocolate desserts, ripe blue cheeses, or branch out and enjoy with your next saucy BBQ dish.
Aromatics: figs, blueberries, caramel, nuttiness
On the Palate: molasses, dried figs, caramel, chamomile tea, prunes, toasted chocolate
Enjoy now, age 10-20 years
No decant while young
Serve slightly chilled, 56-60°F
Wine Specs
Appellation
Texas High Plains
Harvest Date
September, 2017
Aging
4+ years in 80% American oak, 20% French oak
Bottling Date
January, 2022
Residual Sugar
Sweet, 129 g/L
Wine Profile
Vineyard Notes
Jet Wilmeth's Diamante Doble Vineyards, Tokio, TX: Zinfandel (65%), Malbec (20%), Tempranillo (10%); Six Harts Vineyards, Tokio, TX: Touriga Nacional (5%)
Food Pairing Notes
Your favorite chocolates and caramels, chocolate truffles, rich chocolate desserts, walnuts, Stilton or your favorite stinky, bloomy cheeses, or try it with your next BBQ and even cherry pie
Production
Limited Projection, 470 cases
Product Reviews
Mireya Haneke
(Sep 1, 2022 at 8:46 AM)
This port is really smooth. Not too sweet. The perfect balance.
Richard
(Nov 2, 2022 at 3:16 PM)
Outstanding when paired with a rich brownie or other chocolate desert.
Angel Watkins
(Apr 2, 2023 at 5:29 AM)
One that is not a wine connoisseur, this wine with its sweet, dessert taste instantly appealed to me. Its subtle taste of chocolate was a surprise and I knew a bottle has to come home with me. This vineyard is worth the long trip from Alabama! 🥰