Viognier Reserve 2021

---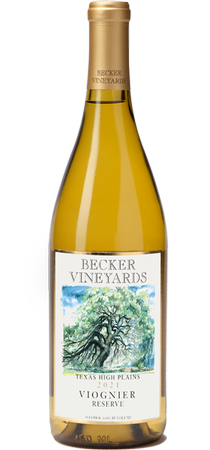 A delightfully light and aromatic wine, perfect for all occasions. The 2021 Viognier Reserve is a blend of Texas High Plains fruit. Aging for 10 months in French oak barrels allows a silky mouthfeel complimenting stone fruits on the palate noses of citrus, florals.
Aromatics: Lime zest, Meyer lemons, magnolia blossoms
On the Palate: Tart citrus notes, with a lush, centered mouthfeel, finishing with warm vanilla
Enjoy now, age 2-4 years
No decant necessary
Serve chilled, 52-58ºF
Wine Specs
Appellation
Texas High Plains
Harvest Date
August, 2021
Aging
10 months 95% French oak barrels (70% new) 5% Stainless Steel tank
Fermentation
Stainless Steel and French oak barrels
Residual Sugar
Dry, 0.4 g/L
Wine Profile
Vineyard Notes
Farmhouse Vineyards' Pool Vineyard (Meadow, TX): 45% Viognier, 4% Roussanne; Bingham Family Vineyards Old Place Vineyard (Meadow, TX): 25% Viognier, 1% Roussanne; Six Harts Vineyards (Tokio, TX) 15% Viognier; Diamante Doble Vineyards (Tokio, TX) 10% Viognier
Food Pairing Notes
Seared scallops, Pumpkin Soup, Fresh fruit tray, Camembert, Brie and Gruyere cheeses
Product Reviews
Ruth
(Oct 7, 2022 at 3:17 AM)
Awesome wine. I have given it as a gift. Both friends immediately bought multiple bottles to have on hand. Two others bought multiple bottles after we tried it. Very smooth.
V J DERRINGTON
(Oct 26, 2022 at 7:45 AM)
A smooth, delightful wine that pairs well with so many foods/snacks. After the wine tasting at Becker I bought 6 bottles and have continued to always keep some on hand. The Best wine ever. When I serve it for guests, they typically order some for themselves.
Esther Perez
(Oct 30, 2022 at 2:46 PM)
I've enjoyed this wine for about three years after my sister introduced me to it. I enjoy having a bit of fruit and cheese as I savor my glass of Viognier. Makes me feel like a world traveler. LOL.
Theresa
(Dec 7, 2022 at 6:24 AM)
Very tasty and crisp. I enjoyed this wine very much. I typically am a red but tasted this at the winery and loved it!
Suzanne
(Apr 24, 2023 at 5:08 AM)
Lovely wine! Smooth, well-rounded, highly drinkable, good finish. Great pairing with just about any food.
Jessica
(Sep 28, 2023 at 6:39 AM)
This is my new favorite wine! Smooth and crisp. Absolutely loved it!