Viognier Reserve 2018

---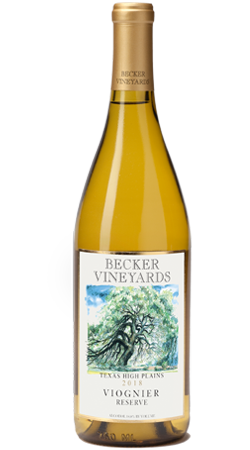 Becker Vineyards' Viognier is once again an exquisitely delightful wine.
Pairing Viognier from three Texas High Plains growers allows the terroir of each individual vineyard to meld, yielding this voluptuous wine. A touch of Roussanne adds an additional layer of complexity and elegance. Using only French oak barrels for aging brings forth a lush, creamy mouthfeel and warm vanilla. This quickly opens up to reveal a burst of refined citrus and golden apples, with lingering guava and a soft orange creamsicle-like finish.
Aromatics: Peach blossom, ripe lychee, apricot pie
On the Palate: Creamy vanilla, lush mouthfeel, heady honeysuckle, tropical fruits
Enjoy now, age 5 years
No decant necessary
Serve 55-63ºF
Wine Specs
Appellation
Texas High Plains
Harvest Date
August, 2018
Aging
French Oak barrels, 30% new
Fermentation
Stainless Steel and French Oak barrels
Bottling Date
January, 202
Residual Sugar
Off-dry 8 g/L
Wine Profile
Awards
2021 San Francisco Chronicle Wine Competition - DOUBLE GOLD 2021 HLSR Int'l Wine Competition - Silver Medal
Vineyard Notes
Viognier, Farmhouse Vineyards (Meadow, TX) 45% Viognier, Jet Wilmeth's Diamante Doble Vineyards (Tokio, TX) 25% Viognier, Bingham Family Vineyards (Meadow, TX) 25% Roussanne, Farmhouse Vineyards and Bingham Family Vineyards (Meadow, TX) 5%
Food Pairing Notes
Salmon, Halibut, chilled fruits, aged hard cheeses
Product Reviews
Lynn Fleming
(Jun 12, 2021 at 11:18 AM)
This has always been my go to wine that pleases everyone. Loved it for many years.
Mona K
(Jun 13, 2021 at 3:25 PM)
Crisp, not too heavy wine. Good for a crowd or to share with a friend.
Art G.
(Jul 4, 2021 at 11:00 AM)
My wife and I think that this is a perfect wine for an indoor cheese and fruit carpet picnic when the temperature is too hot outside.
Lauren Pitts
(Jul 21, 2021 at 11:42 AM)
So delicious! If you like white wine, this will make you fall in love. Also a perfect gift for anyone!
Mark Eastwood
(Nov 3, 2021 at 5:39 AM)
I've been a fan of Viognier for years. Most American's don't know much about it, but it's especially good for me in the summer. This is an excellent wine, it's crisp and fruity and just very drinkable. I like it for an evening aperitif / hors d'oeuvres or with chicken dishes.
Linda Young
(Nov 19, 2021 at 4:11 PM)
So smooth. So delicious. So drinakable!
Dr. Sam Theriot
(Nov 28, 2021 at 9:19 AM)
Can't wait to share it with my family and friends this holiday season with Shrimp Scampi linguine
Fast Eddy
(Feb 18, 2022 at 2:55 PM)
We stopped by Becker on a whim while visiting Fredericksburg. We're very glad we did - such a strong portfolio for a wine region we scarcely knew existed! This Viogner is truly a standout - packed with flavor and just enough acid to make it an excellent choice for seafood or lighter fare. It's delicious and I bought some more online. Bravo Becker!
Lilly Ehrman
(Mar 5, 2022 at 10:20 AM)
My favorite white wine!!! Lovely bouquet on the nose and so very smooth and easy to drink.
Brenner Haby
(May 12, 2022 at 6:58 AM)
Great wine to share with family and friends.
George W Hawks Jr
(Jun 7, 2022 at 8:55 AM)
This Becker Vineyards Viognier is the best Viognier we have had in years. As described above, it is very crisp, and pleasant on the palate. We loved it, bought two bottles to bring home and will be buying more in the future. I might add, the staff at Becker Vineyards were very friendly and welcoming. Highly recommend you stop in and taste their wines.