Viognier Reserve 2017

---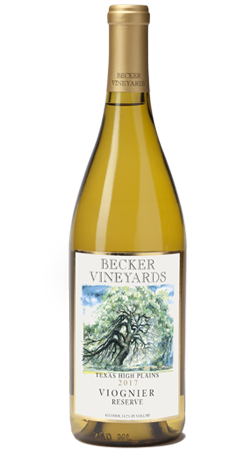 A blend of viognier grapes from the Texas High Plains, this is the embodiment of Texas Viognier. Aromas of white peaches, apricots and perfumey white florals present upon opening the 2017 Viognier Reserve. The front palate is ripe stone fruit, and honeysuckle, layered with a mid-palate of guava, pineapple and a touch of Meyer lemon. The body is a crisp, yet bold full-bodied wine, the result of one year aging in 100% French oak barrels.
Aromatics: White peaches, Lily of the Valley, citrus notes, warm vanilla
On the Palate: Ripe stone fruits, honeysuckle, tropical fruits and Meyer lemon
Wine Specs
Appellation
Texas High Plains
Harvest Date
August - September, 2017
Fermentation
Stainless steel and 100% new French oak barrels
Bottling Date
November, 2018
Residual Sugar
Dry 0.4 g/L
Wine Profile
Awards
2019 San Francisco Chronicle Wine Competition - GOLD Medal 2019 Lone Star Int'l Wine Competition - Bronze medal
Vineyard Notes
Jet Wilmeth Doble Diamante Vineyards, Bingham Family Vineyards, Farmhouse Family Vineyards
Food Pairing Notes
Seafood with light cream sauces, light meat dishes, roasted vegetables and herb dishes, fresh fruit, almonds
Product Reviews
Steve Burnett
(Mar 10, 2019 at 6:43 PM)
Without being hoidy hoidy wine descriptive, this Becker beauty is in a word DELICIOUS! Consistently delicious. It has been quite some time since I visited the winery and took a case of their Viognier back home to Oklahoma. This is a wine that you definitely remember. Of all the white wines I have tasted over many years Becker's Viognier is hands down my favorite.
S Underwood
(Sep 25, 2019 at 8:09 AM)
I am not a white wine drinker at all and prefer reds over everything but my husband and I did a wine tasting at the vineyard and he got a bottle of this wine. I eventually tried it and wow! I was blown away! It's refreshing, easy to drink, and smells and tastes amazing!
Robin Wilson
(Nov 2, 2019 at 12:36 PM)
We usually do not drink white wines, but it was a beautiful sunny afternoon when we visited Becker Vineyards and it was our first bottle of the day, so we chose to try this Viognier and it was delicious. We prefer dry red wines, but I must highly recommend trying this white wine. It was delicious.
Paul H
(Nov 9, 2019 at 8:45 AM)
Great well balanced wine, perfect to enjoy with a meal or just sitting on the porch and passing the day away. Excellent value and one to enjoy year round
Deborah Kenney
(Jun 5, 2020 at 9:20 AM)
So I am a Chardonay girl but I have to say this White was a game changer for me. I love the crisp fruit notes & it's not super dry.
Kate
(Jun 16, 2020 at 2:18 PM)
This is the best Viogner you will find in Texas, no contest. I agree with the multiple other reviews , I generally prefer reds but this is a great white wine.
ALETA K EDDY
(Dec 5, 2020 at 10:55 AM)
You will not go wrong with this Viognier! Whether I visit the winery or order online, I always add this lovely wine!