Virtual Tasting 3 Pack - 10th Round

---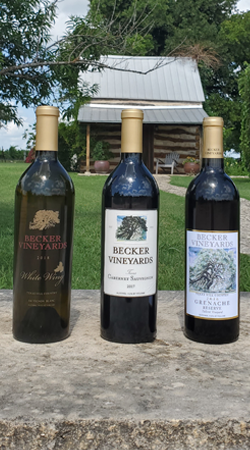 This package is no longer available. Please contact the winery for inquiries.

Purchase your 3 pack of bottles and then join us for 3 separate virtual tastings where we discuss, enjoy, and taste one wine each time.
$65.00 Wine Club price for everyone!
INCLUDES 3 bottles listed below
AND UPS Ground shipping!
2018 White Wing
Always the first grapes of harvest, our Sauvignon Blanc is both rich in body and fruit.
2017 Cabernet Sauvignon
This beautiful cabernet is typically only available in retail stores throughout the state of Texas
2016 Grenache Reserve
Tallent Vineyard
The grape's fame is by virtue, a dominant varietal in Chateauneuf-du-Pape and Priorat, grown in the South of France.


Virtual Tasting Schedule:
Monday, June 1
5:30pm
White Wing

Wednesday, June 3
5:30pm
Cabernet Sauvignon
Friday, June 5
5:30pm
Grenache Reserve
Tallent Vineyard
All virtual tastings will be conducted through Facebook live.
We look forward to connecting with you over good stories and great wine!
*Please keep in mind your wines may arrive too late to participate in one or more of the virtual tasting sessions depending on when order is placed.
** This offer cannot be combined with other deals or promotions
Product Reviews
Louise Wilmeth Tillman
(May 27, 2020 at 6:15 PM)
I agree with the two previous reviews. As soon as I tried this, it immediately became my all time favorite wine. And it had nothing to do with the fact that Wilmeth is my maiden name. Honest! I am very anxious to order more, but this time, by the case. I love it!!