Virtual Tasting 3 Pack - 12th Round

---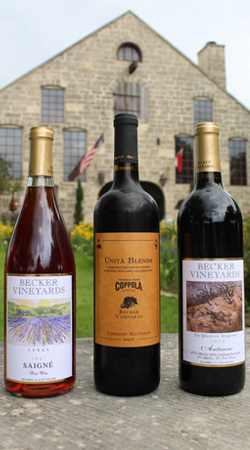 This package is no longer available. Please contact the winery for inquiries.
Purchase your 3 pack of Week 12 blends and then join us for 3 separate virtual tastings where we discuss, enjoy, and taste one wine each time.
All three wines are blends. The wine we are featuring on Wednesday called Unita is a fun project we put together with the Francis Ford Coppola Winery in California. 50% of the grapes are from their vineyard and 50% of the grapes are from our vineyard! A true union of two renowned vineyards and winemakers.
---
$70.00 Wine Club price for everyone!
INCLUDES 3 bottles listed below
AND UPS Ground shipping!

2017 Saigné

A rosé blend of Merlot, Cabernet Sauvignon, Malbec, Cabernet Franc, and Tempranillo from all over Texas.

2017 Unita

A 50 - 50 blend of wine from Becker Vineyards and Francis Ford Coppola Winery.


2016 Autunno

A blend of Merlot, Cabernet Sauvignon, Malbec, and Petit Verdot from Becker Vineyards Estate Vineyard and

the Tallent Vineyard in Mason, Texas.


Virtual Tasting Schedule:
Monday, June 15
5:30pm

2017 Saigné


Wednesday, June 17

5:30pm

2017 Unita

Friday, June 19
5:30pm

2016 Autunno

All virtual tastings will be conducted through Facebook live.
We look forward to connecting with you over good stories and great wine!

*Please keep in mind your wines may arrive too late to participate in one or more of the virtual tasting sessions depending on when order is placed.

** This offer cannot be combined with other deals or promotions
Product Reviews