Virtual Tasting 3 Pack - Mother's Day Special

---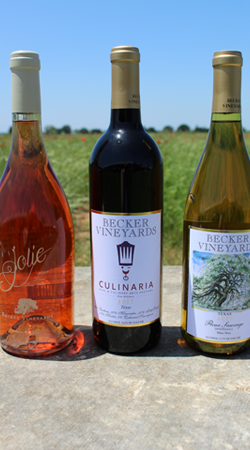 This package is no longer available. Please contact the winery for inquiries.
Our virtual tastings are so much fun!
For Week 7, we're thinking about our moms. Each evening, we'll enjoy a wine tasting while aslo discussing some of our great Becker Vineyards Lavender products with Chris Perrenoud, our Lavender Manager.
Purchase your 3 pack of wine and then join us for 3 separate virtual tastings where we discuss, enjoy, and taste one wine each time.
$60.00 Wine Club price for everyone!
INCLUDES 3 bottles listed below
AND UPS Ground shipping!
2017 Jolie Rosé
Because sometimes, you want to frolic in the fountain...
Jolie is inspired by the fantastic rosés of the Alto Douro of Portugal and Duero River Valley of Spain.
2016 Fleur Sauvage
Fleur Sauvage, or "The Wild Flower" is a unique blend of Texas white grapes.
This vintage, the grapes include Roussanne, Chardonnay and Viognier.

2017 Culinaria
Culinaria is one of the most seductive, alluring food friendly wines yet.
From the bright red fruit on the nose to the full mouthfeel, this lush,
pliant wine caresses your senses with unabashed forwardness.


Virtual Tasting Schedule:
Monday, May 11
5:30pm
2017 Jolie Rosé

Wednesday, May 13
5:30pm
2016 Fleur Sauvage
Friday, May 15
5:30pm
2017 Culinaria
All virtual tastings will be conducted through Facebook live.
We look forward to connecting with you over good stories and great wine!
*Please keep in mind your wines may arrive too late to participate in one or more of the virtual tasting sessions depending on when order is placed.
** This offer cannot be combined with other deals or promotions
Product Reviews
Jerry Andes
(Apr 30, 2020 at 10:15 AM)
2016 Heath was out of this world. Would like to buy more of it. Where can I find it?