Virtual Tasting 3 Pack - Tasting Notes Concert

---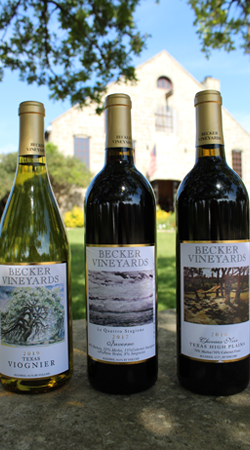 This package is no longer available. Please contact the winery for inquiries.
Our virtual tastings are so much fun!
For Week 8, we're changing things up.
Wednesday, May 20th join us for "Tasting Notes" song and wine swap with special musical guests Shane Smith & The Saints and our winemaker, Jon Leahy. We'll be tasting our 2019 Viognier and our 2017 Inverno that night while listening to some fantastic Texas musicians. Enjoy learning about songwriting and winemaking together.
A Truly Texas Experience!
Purchase your 3 pack of wine and then join us for 2 separate virtual tastings where we discuss, enjoy, and taste one wine each time.
$80.00 Wine Club price for everyone!
INCLUDES 3 bottles listed below
AND UPS Ground shipping!
2019 Viognier
Brand new release. Typically only found in retail markets throughout the state of Texas.
2017 Inverno
This non-typical blend presents this interesting fusion of Texas Hill Country and Texas High Plains wines;
when Italian varietals meet Bordeaux. Traditionally only available to our Wine Club Members.

2017 Chevaux Noir
DOUBLE Gold Medal, Reserve Class Champion, & Texas Class Champion - 2019 Houston LSR Int'l Wine Competition


Virtual Tasting Schedule:

Wednesday, May 20
5:30pm
2019 Viognier & 2017 Inverno
Friday, May 22
5:30pm
2017 Chevaux Noir
All virtual tastings will be conducted through Facebook live.
We look forward to connecting with you over good stories and great wine!
*Please keep in mind your wines may arrive too late to participate in one or more of the virtual tasting sessions depending on when order is placed.
** This offer cannot be combined with other deals or promotions
Product Reviews