Virtual Tasting 3 Pack - Week 19

---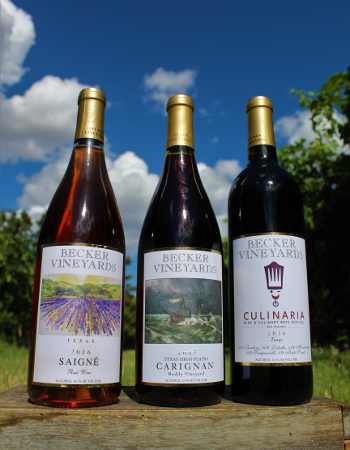 This package is no longer available. Please contact the winery for inquiries.
Week 19
Don't miss this exciting opportunity with Becker Vineyards.
Delight in your wine while you are entertained with discussion and stories with Dr. Richard Becker, some special guests, and our winemaker, Jon Leahy.

$100.00 Bundle price for everyone!
INCLUDES 3 bottles listed below
AND UPS Ground shipping!
Library Release - 2016 Saigné
Rosé blend of Tempranillo, Mourvedre, Syrah, Petite Sirah, and others.
2017 Carignan
Library Release - 2016 Culinaria
Blend of Barbera, Dolcetto, Mourvedre, Tempranillo and Petite Sirah

Virtual Tasting Schedule:
Monday, August 3
5:30pm
Library Release - 2016 Saigné
Wednesday, August 5
5:30pm
2017 Carignan - Reddy Vineyard
Friday, August 7
5:30pm
Library Release - 2016 Culinaria
All virtual tastings will be conducted through Facebook live.
We look forward to connecting with you over good stories and great wine!
*Please keep in mind your wines may arrive too late to participate in one or more of the virtual tasting sessions depending on when order is placed.
** This offer cannot be combined with other deals or promotions
Product Reviews