Virtual Tasting 3 Pack - Week 29

---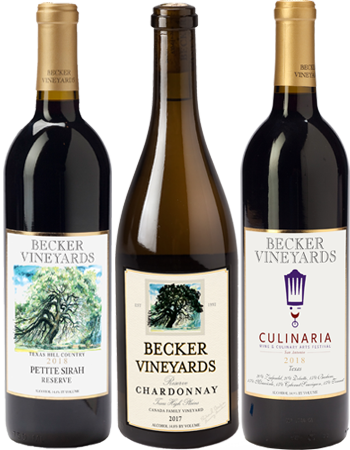 Week 29
Virtual Wine Tasting
Becker Wine Club October Selections
Dr. Becker and Jon pick your wines.
Why not taste with them and hear why?!
$99.90 / $79.92 WC
plus shipping
2017 - Chardonnay Reserve
Canada Family Vineyard
New Release - 2018 - Culinaria
Blend of Zinfandel, Dolcetto, Barbera, Cabernet Sauvignon, & Tannat
New Release - 2018 - Petite Sirah Reserve
Texas Hill Country

Virtual Tasting Schedule:
Wednesday, October 14
5:30pm
ALL three wines will be tasted together!
All virtual tastings will be conducted through Facebook live.
*Please keep in mind your wines may arrive too late to participate in the virtual tasting sessions depending on when order is placed.
Product Reviews