Virtual Tasting 3 Pack - Week 40

---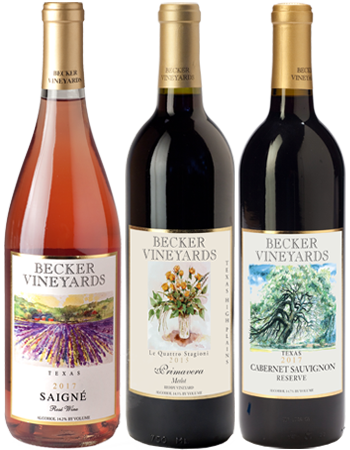 This package is no longer available. Please contact the winery for inquiries.
Week 40 Virtual Wine Tasting
New Year Hooray!
$85.00
Bundle Price
INCLUDES UPS Ground Shipping
2017 Saigné
Blend of Merlot, Cabernet Sauvignon, Malbec, Cabernet Franc, and Tempranillo
2015 - Primavera
Le Quattro Stagione - Spring
Reddy Vineyards
2017 - Cabernet Sauvignon Reserve
Traditionally only available in Distribution throughout Texas
Virtual Tasting Schedule:
Wednesday, January 6
5:30pm
ALL three wines will be tasted together!
All virtual tastings will be conducted through Facebook live.
*Please keep in mind your wines may arrive too late to participate in the virtual tasting sessions depending on when order is placed.
Product Reviews