Virtual Tasting 3 Pack - Week 47

---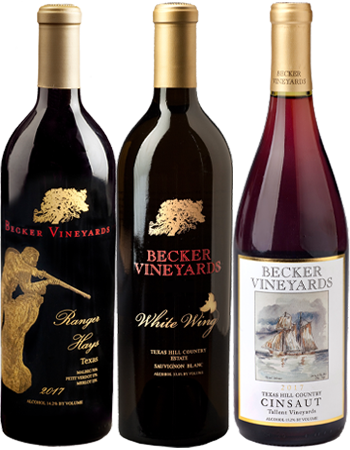 This package is no longer available. Please contact the winery for inquiries.
Week 47 Virtual Wine Tasting
Becker Wine Club February Selections
Dr. Becker and Jon pick your wines.
Why not taste with them and hear why?!
$106.95 / $85.56 WC
plus tax and shipping
New Release - 2019 White Wing
Becker Estate Vineyard
2017 - Ranger Hays
Blend of Malbec, Petit Verdot, and Merlot
2017 - Cinsaut
Tallent Vineyard

Virtual Tasting Schedule:
Wednesday, February 24
5:30pm
ALL three wines will be tasted together!
All virtual tastings will be conducted through Facebook live.
*Please keep in mind your wines may arrive too late to participate in the virtual tasting sessions depending on when order is placed.
Product Reviews