Virtual Tasting 3 Pack - Week 51

---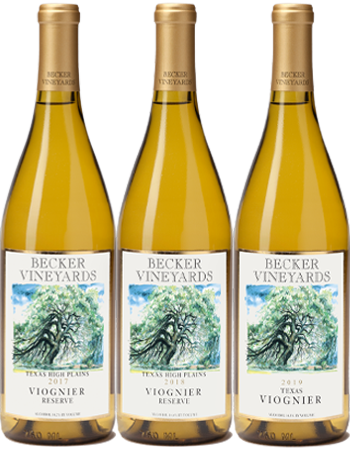 Viognier means GOLD in Texan!
Week 51 Virtual Wine Tasting
$60.00
Bundle Price
INCLUDES UPS Ground Shipping
2017 Viognier Reserve
GOLD Medal - 2019 San Francisco Chronicle Wine Competition
2018 Viognier Reserve
DOUBLE GOLD Medal - 2021 San Francisco Chronicle Wine Competition
PRE-RELEASE EXCLUSIVE
2019 Viognier
DOUBLE GOLD Medal - 2021 San Francisco Chronicle Wine Competition
Traditionally only available in Distribution throughout Texas
Virtual Tasting Schedule:
Wednesday, March 24th
5:30pm
ALL three wines will be tasted together!
All virtual tastings will be conducted through Facebook live.
*Please keep in mind your wines may arrive too late to participate in the virtual tasting sessions depending on when order is placed.
Product Reviews
Brian Macias
(Apr 1, 2021 at 3:27 PM)
I was skeptical about this wine because I'm primarily a red wine drinker, but I kept an open mind. I opened the 2017 and poured it into the glass, and with a swirl caught the first scent. It was very vibrant, very fruity, and it appeared I was going to be in for a treat. From first sip to final gulp, I was amazed at how good this wine tasted! I would describe it as a semi-sweet - basically a dry wine at heart with the right amount of sweetness. Very fruit forward, with hints of oak and vanilla filling the mouth, finished with almost a pineapple flavor - the sweetness of the pineapple, though, without the harshness. It was very easy to drink, and it will be a very nice summer wine to sip by the pool after a hot day! I'm not big on Texas reds, but they're getting something right with Viognier! It's turning into one of my favorites!