Virtual Tasting 3 Pack - Week 14

---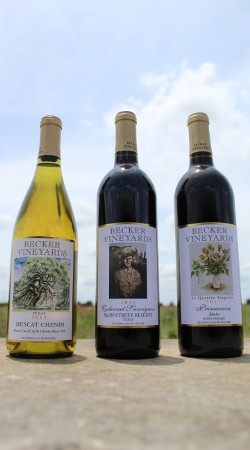 This package is no longer available. Please contact the winery for inquiries.

Purchase your 3 pack of bottles and then join us for 3 separate virtual tastings where we discuss, enjoy, and taste one wine each time.

We're including three very different wines to demonstrate the wide variety in Texas wines.

$70.00 Wine Club price for everyone!
INCLUDES 3 bottles listed below
AND UPS Ground shipping!
2014 Muscat Chenin
Silver Medal - 2018 San Francisco Chronicle Wine Competition
2015 Cabernet Sauvignon
Main Street Reserve
This beautiful Texas Cabernet has been reserved for sale only at our Main Street Tasting Room location.
2015 Primavera Merlot
Reddy Vineyard
Our "Spring" installment of the Becker Vineyards wine series, La Quattro Stagione,
this wine is normally held asside for Wine Club Members.

Virtual Tasting Schedule:
Monday, June 29
5:30pm
Muscat Chenin
Wednesday, July 1
5:30pm
Cabernet Sauvignon - Main Street Reserve
Friday, July 3
5:30pm
Primavera Merlot - Reddy Vineyard
All virtual tastings will be conducted through Facebook live.
We look forward to connecting with you over good stories and great wine!
*Please keep in mind your wines may arrive too late to participate in one or more of the virtual tasting sessions depending on when order is placed.
** This offer cannot be combined with other deals or promotions
Product Reviews