Wine Club Hands On Harvest 2021

---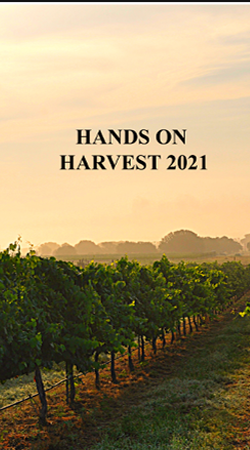 We don't mail physical tickets. Select "Pick Up at Becker Vineyards" upon check out. Please tell us your tshirt sizes in the "order notes" section during checkout.

We are back for our 8th Annual Hands-On Harvest event which is scheduled for August 14, 2021
This is a Wine Club Members Only event.

We start early and spend a good portion of our time outside in the Texas summer sun. So make sure to dress appropriately with comfortable shoes, hats, and sunblock. We will provide water throughout the day.
8:30am - Check in / Beverages & Donuts in the Vineyard
9:00-9:45am - Hand Picking in the Vineyard Break 10:00am - Process Harvested Grapes
11:00am - Lunch
***Wine from the grapes picked from previous year's harvest is still aging!!
We will be able to sample a little of the unfinished product with our lunch.

Tickets are $60.00 per person and include snacks upon arrival, lunch, and a Harvest t-shirt!

The number of tickets is limited.
Tickets go on sale Saturday, July 10, 2021 at Noon!
Product Reviews
Lynne Gower
(Jul 10, 2021 at 10:03 AM)
love this event
Lorean Sindelar
(Jul 10, 2021 at 10:05 AM)
2 Hands on Harvest tickets - pick up at winery. One size XL, one size L
Jimmy Chew
(Jul 10, 2021 at 10:09 AM)
Betty is really looking forward to this event . We can't wait to see everyone. Shirts are one Medium & one Extra Large
Jane Anderholt
(Jul 10, 2021 at 10:26 AM)
2 please! Two size large shirts please!
Rex and Suzi Scaggs
(Jul 16, 2021 at 5:41 AM)
Haven't missed one yet (except for pandemic last year). Excellent good fun and very educational; besides, we love watching our vines grow and the entire process from planting to sipping,,, and the luncheons are Fantastic ! 2 - XL tee shirts please