Wine & Culinary Christmas 2023

---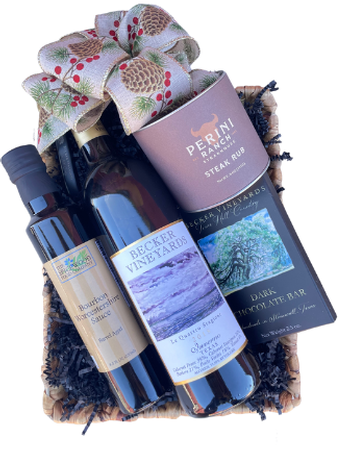 *FREE SHIPPING FOR GIFT BASKETS!*
2018 Inverno
Inverno, the Winter release of our Quattro Stagione wine series showcases our winemaker's creativity conceiving a fusion of Texas Hill Country and Texas High Plains wines; when Italian meets Bordeaux. Earthy Cabernet Franc and Cabernet Sauvignon balancing a brighter Barbera and dark Petit Verdot meld together, yielding violets and bramble fruit on the nose. As the wine opens, you'll find notes of roses followed by flavors of candied violets. Dark cherries complementing tart Bing cherries, carry through the palate with ripe dates and a satisfying tannic structure. Aging for nearly three years in predominately neutral American oak barrels allows the complexity of the wine to shine, ready for the next sip.
Awards: 2022 San Francisco International Wine Competition
Silver Medal
2022 San Antonio LSR Wine Competition
Gold Medal
Corkscrew: Open your favorite bottle of wine with elegance and ease using our engraved double-hinged corkscrew.
Perini Ranch Steak Rub: Transform ordinary cuts into gourmet masterpieces with the Perini Ranch Steak Rub. Tom Perini developed this special blend of seasonings that has helped elevate his steaks to worldwide fame! It's a perfect complement for beef but also try it with chicken, pork, and veggies.
Spicewood Food Company Bourbon Worcestershire Sauce: This carefully curated sauce marries the smoky allure of bourbon with the richness of Worcestershire, adding layers of flavor to your dishes, whether marinating, glazing, or dipping.
Dark Chocolate Bar: Savor the decadence of our premium dark chocolate bar. Crafted from the finest cocoa beans, this chocolate indulgence delights the taste buds with its rich, bittersweet flavor profile.
All Gift Basket orders will be shipped out within 5 business days of order date,
unless customer specifies different request.
Product Reviews