Comfrey Salve

---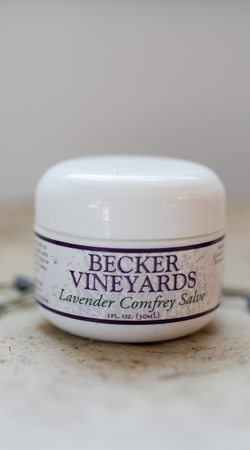 Comfrey aids in cell regeneration.This all natural salve is good for cuts, burns, and abrasions. Comfrey leaf infused coconut oil, shealoe butter, beeswax, vitamin E and lavender essential oils. 1fl oz
Product Reviews
Peggy
(Jul 25, 2020 at 1:29 PM)
Love this stuff. Helps my poor nails which are gardening a good part of the time!
Eva
(Dec 15, 2020 at 8:45 AM)
I think this balm has a little magic in it. Heals many skin disasters.
Mahua Majumdar
(Mar 19, 2021 at 9:48 AM)
I go back to Becker each year, when possible, to pick a jar up. This is an elixir for all sorts of skin ailment and chapped lips.
Donna
(May 14, 2021 at 9:45 AM)
Wonderful product. So many healing properties too! I've been using it on my scars and they have been gradually fading.
Kerri
(Aug 11, 2021 at 4:03 PM)
Have loved the lavender body lotion since trying, but found this in store. Had sunburned my back, but this was instant relief and kept my back from being so dry and itching. Will never be without it again.