Comfrey Salve

---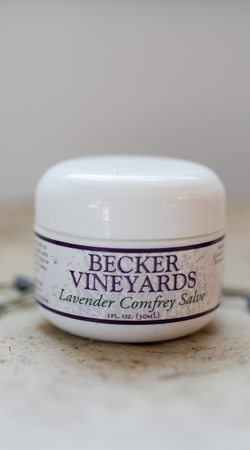 Comfrey aids in cell regeneration.This all natural salve is good for cuts, burns, and abrasions. Comfrey leaf infused coconut oil, shealoe butter, beeswax, vitamin E and lavender essential oils. 1fl oz
Product Reviews
Peggy
(Jul 25, 2020 at 1:29 PM)
Love this stuff. Helps my poor nails which are gardening a good part of the time!
Eva
(Dec 15, 2020 at 8:45 AM)
I think this balm has a little magic in it. Heals many skin disasters.
Mahua Majumdar
(Mar 19, 2021 at 9:48 AM)
I go back to Becker each year, when possible, to pick a jar up. This is an elixir for all sorts of skin ailment and chapped lips.