Soap in Organza Bag

---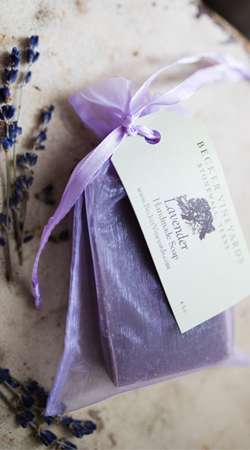 Handmade bath bar with a touch of natural botanicals and essential oil. Saponifed organic oils of sunflower, coconut, palm and safflower with essential oil. Packaged in an organza gift bag. 4oz bar
Product Reviews
Linda
(Aug 20, 2020 at 8:44 AM)
Love this soap. I'm allergic to regular soap. But the lavender soap works great on my skin.
Irma Roberts
(Aug 27, 2020 at 4:38 PM)
This soap is excellent. It has a great relaxing smell; and it leaves my skin super soft.
richard henderson
(Sep 20, 2020 at 10:30 PM)
We have bought the soap and other lavender products since Richard and Bunny gave the tastings and manned the front cash registers before the mammoth tasting room was built and frankly, I think they don't remember us. But the private tour of the aging room and our young boys ( now both at UT) bouncing around the porch are memories we will never forget.. The lavender products are wonderful.