Provencal 2017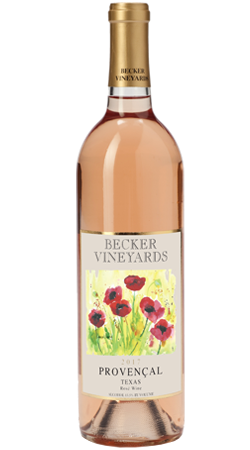 A dry, Provence-style rose. Several varietals go into this wine, such as Carignan, Tempranillo, Mourvedre, Counoiuse, Malbec and even a small amount of Petit Verdot. Rose is a synergestic blend of white wine-making techinique used on red grapes. The grapes are pressed after a small amount of skin contact, capturing just the right hue of salmon coloring. Fermentation then takes place at 55-58°F, retaining the floral qualities of the fruit, saving the delicate aromas.
What we end up with is a light-bodied rose, a perfect cross-over for both red and white wine lovers.
Aromatics: Bright florals, sweet violets, stone fruit
On the Palate: Red fruit, strawberries, dried cherries.
Wine Specs
Harvest Date
August, 2017
Fermentation
Stainless Steel
Bottling Date
April, 2018
Residual Sugar
Dry 2.5 g/L
Wine Profile
Vineyard Notes
From the Texas High Plains: Reddy Vineyards, Carignan, Mourvedre; Farmhouse Vineyards Tempranillo, Counoise From the Texas Hill Country: Tallent Vineyards, Petit Verdot, Malbec
Food Pairing Notes
Light fish, grilled vegetables, pork, fowl, rich cheesey dishes. Burrata, aged chevre, gouda and fruit plates.
Other Notes
SKU 644412000755