Red Wine Gift Box - 2 Bottle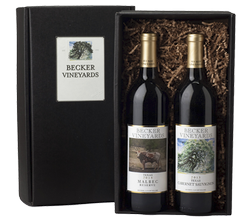 2013 Texas Cabernet Sauvignon - Notes of rich cherry and earth will greet you on your first glass. Followed up with well-developed tannins and dark red fruit. This wine will entice you to a second glass, but be aware that it may try to convince you not to share with others. To counter this urge we recommend two bottles - one for you and one for you tomorrow...
2016 San Francisco Int'l Wine Competition - Gold Medal
2014 Reserve Malbec - This wine was made in the style of Mendoza, Argentina Malbecs with a rich, tannic structure and a balanced flavor profile. We blended our own Estate grown grapes in Stonewall, Texas with Malbec from Jet Wilmeth's vineyard in Tokio, Texas up in the High Plains.
2017 Lone Star International Wine Competion - Silver Medal (Texas Competition)